BeagleBone® Blue and OSD3358: The Fastest Way to Build Your Own Robots
Robots are everywhere. Self-guided vacuums cruise across our floors.  Manufacturing robots construct cars and appliances with speed and precision. Self–driving cars are only a few years away from commercial viability. The R2 Robonaut has been helping astronauts on the space station for years. A little closer to Earth, drones help people take stunning overhead photos and videos. Soon, drones may even deliver packages or rescue lost hikers.
Even with the explosion of robots all around us, building them can be challenging. For a robot to complete a task safely and correctly, the robot needs to interact and sense its environment and know how to react.  This requires complicated mechanical, electrical, and software functions all working together with precision. With so much complexity, robot development might seem the sole province of well-funded institutions and companies.
Not any longer.
Enter
BeagleBone® 

Blue
The BeagleBoard.org® Foundation in partnership with Octavo Systems has developed BeagleBone® Blue, an open-source robotics controller platform that allows anyone to quickly and easily build their own robots. The controller is LINUX-enabled, community-supported, and fully open-source. Octavo Systems' OSD3358 System-in-Package (SIP) technology provides BeagleBone®  Blue's primary computing power and RAM.  The board also provides 4GB of on-board flash storage. BeagleBone®  Blue is compatible with Debian, ArduPilot, ROS, and features the Cloud9 IDE.
BeagleBone® Blue includes powerful high-performance connectivity interfaces, including USB 2.0 client and host connections. The controller also provides wireless connectivity using 802.11b/g/n, Bluetooth 4.1, and Bluetooth Low Energy (BLE). Through the pre-configured WiFi access point you can begin your code development simply by connecting a battery and opening your web browser.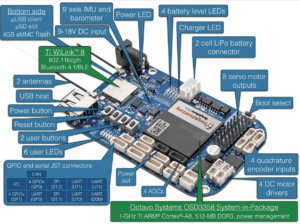 But this is a robotics controller, so it must be prepared to do real things in the real world. BeagleBone® Blue includes multiple motor control options including four DC motor drivers, four quadrature encoder inputs, and eight servo motor controllers.  It also has a variety of power source options from a microUSB, to a two-cell LiPo battery connector, and  9-18V DC jack. On-board sensors include a barometer and a 9-axis inertial measurement unit (IMU).
BeagleBone® Blue utilizes the active and engaged BeagleBoard.org community to help support you through all phases of the development process. Also, with BeagleBoard.org® focusing on education they intend to provide a full curriculum for BeagleBone® Blue via a Massive Open Online Course (MOOC). Whether you're a newbie, or an experienced developer, BeagleBone Blue can help jump start your next robotics project.
The
OSD3358

and

BeagleBone®

Blue

The OSD3358 enabled BeagleBoard.org to provide this powerful robotics platform in a small, low-cost package. It integrates the TI Sitara™ AM3358 ARM® Cortex® A8 processor running up to 1GHz, 512MB of DDR3 RAM, and two power supplies into a single IC package. At roughly the size of a quarter, the OSD3358 uses 35% less space than separate components. OSD3358's compact System-In-Package form enables BeagleBoard.org to fit all this functionality into a small form factor that still fits in an Altoids-tin. Its small size and powerful features (6 PWMs, 3 Quadrater Encoders, ADCs, PRUs, etc.) make the OSD3358 a perfect fit for drones and other robotics platforms where size and weight are key concerns.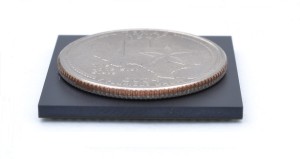 The
OSD3358

and the Future of Robots

Now, with BeagleBone® Blue and the OSD3358, robot designers have an easy and clear path to building their own robotics systems. BeagleBone® Blue is a low-cost prototyping platform that allows you to spend less time developing a controller and more time focusing on the mechanical and software design aspects of your robot. Using the OSD3358, you can quickly build your customized solution and get into production faster.

Find out more about our OSD3358 SIP technology and related development boards at OctavoSystems.com.