OSD335x C-SiP
A Complete System-in-Package
The OSD335x Complete System-in-Package (C-SiP™) integrates everything that is needed to build an embedded processing system into a single package.  It includes the TI Sitara™ ARM® Cortex®-A8 AM335x processor, DDR3 memory, TPS65217C PMIC, TL5209 LDO, 4KB of EEPROM, Embedded Multimedia Card (eMMC) non-volatile storage, a MEMS Oscillator, and all the needed passives into a single BGA package.  At 27mm X 27mm, it is almost 50% smaller than an equivalent system made of discrete components.
The OSD335x C-SiP™ significantly reduces the effort required to design an embedded system.  Don't worry about DDR, Power Sequencing, Flash, or Oscillators, just connect power and your peripherals to the OSD335x C-SiP.  That's It.
The OSD335x C-SiP also simplifies your sourcing and supply chain.  Over 100 components are integrated into one meaning you don't have to find sources for DDR, eMMC, or capacitors.  We take care of that for you.
The OSD335x C-SiP is the perfect solution for the designer that is looking for the fastest way to complete their ARM Cortex®-A based system.
Additional Variants:
OSD335x – Same functionality with NO EEPROM, eMMC, or MEMS Oscillator Integrated.
OSD335x-SM – Same functionality in a smaller package and NO eMMC or MEMS Oscillator.
Reference Design & Development Platform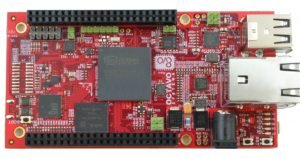 The Octavo Systems OSD3358-SM-RED platform is the official Reference, Evaluation, and Development board for the OSD335x C-SiP and OSD335x-SM families of devices.  It has many common interfaces and sensors.  It also has a pair of expansion headers that are compatible with common community supported open source boards.  This provides a platform to quickly prototype different applications.
The OSD3358-SM-RED is built using the OSD335x-SM System-in-Package.  It is completely software compatible with the OSD335x C-SiP.
All of the design resources and software are opensource making it an ideal known good starting point for new designs.   A set of schematics and layout files will be released using the OSD335x C-SiP so it can also be used as a starting point for hardware development.
Symbols
To make designing with Octavo Systems devices easier, a number of schematic symbol libraries have been provided below.  There are options for a variety of schematic capture and layout programs.  Please choose the one that best suits your needs.  If you would like to request a symbol for a different tool, please request it here.
Software
Provided below is a copy of the DDR3 calibration program that is provided from Texas Instruments.  It has been provided here for your convenience.