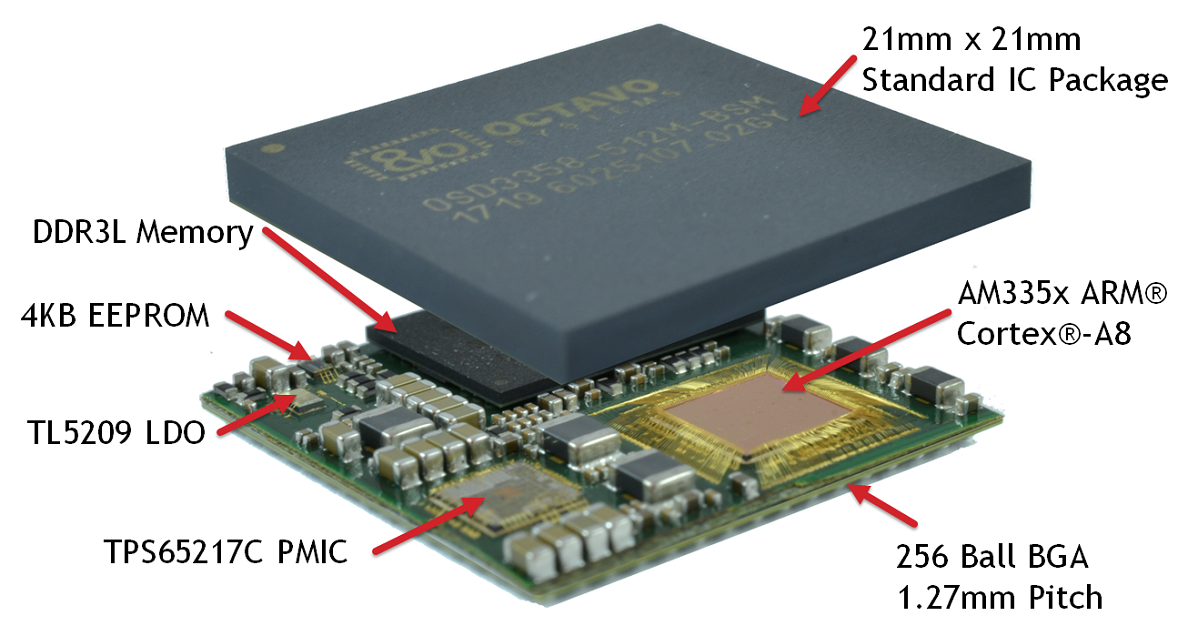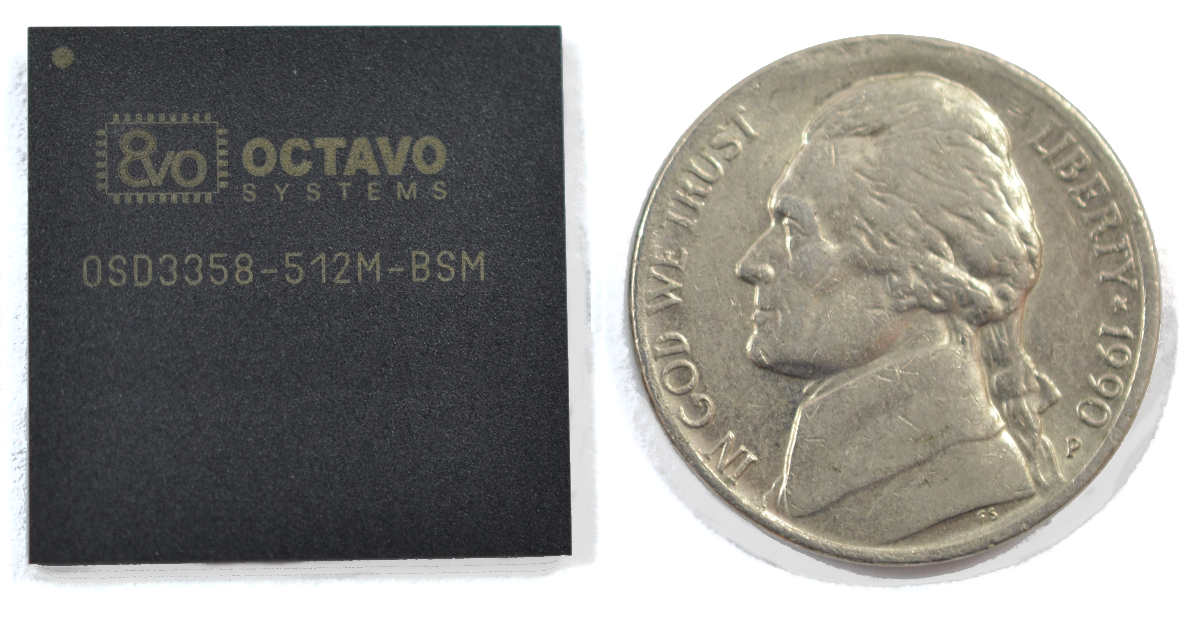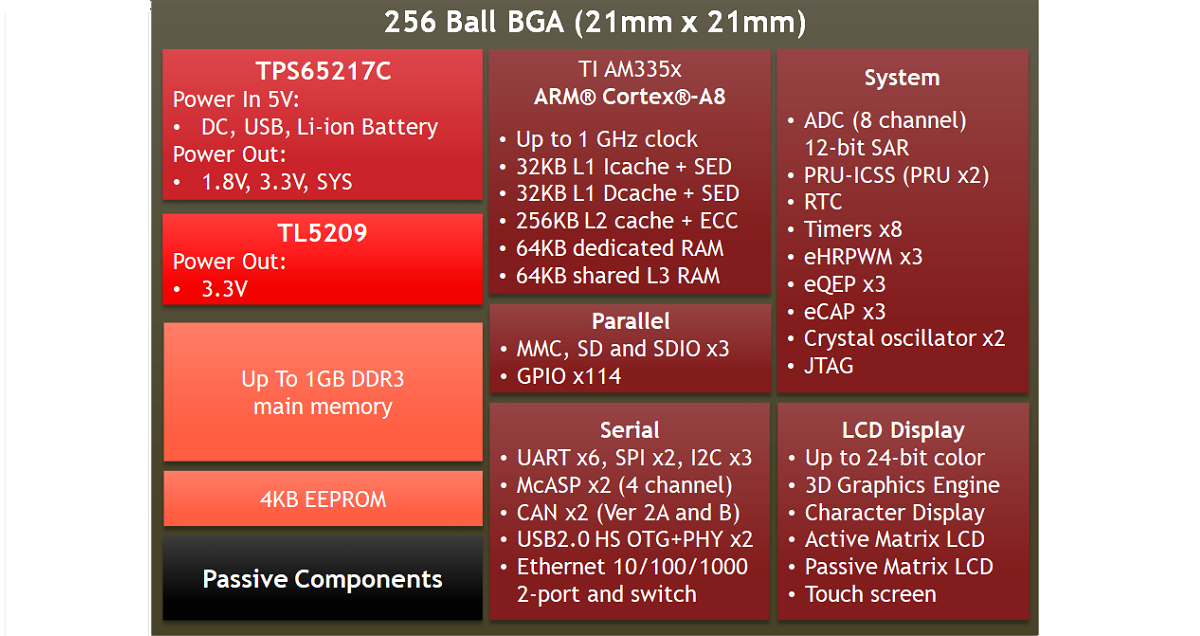 OSD335x-SM
More Flexibility. Smallest Package.
The OSD335x-SM is the smallest System-In-Package (SiP) device in the OSD335x Family.  The OSD335x-SM integrates the TI Sitara™ ARM® Cortex®-A8 AM335x processor, DDR3 memory, TPS65217C PMIC, TL5209 LDO, all the needed passives, and 4KB of EEPROM into a single BGA package.  At 21mm X 21mm, it is 40% smaller than the OSD335x and 60% smaller than the equivalent discrete system.
The OSD335x-SM utilizes the same wide 1.27mm (50mil) pitch as the rest of the OSD335x family.  This combined with a new optimized Pin Map allows designers to escape all the BGA signals in a single layer.  The wide pitch also simplifies the assemble process and removes common concerns associated with manufacturing BGAs.
The OSD335x-SM also gives designers the ability to tailor the device to meet their needs.  The I/O Voltage Domains and the ADC Ranges are both programmable.  The PMIC low power modes are also made accessible as well as the PMIC voltage monitors giving the ability to more finely tune the power performance of the final design.
The OSD335x-SM is the perfect solution for the designer that is looking for the most flexible ARM-based solution in the smallest footprint.
See Also: OSD335x – Same functionality in a larger package and NO EEPROM.
Reference Design & Development Platform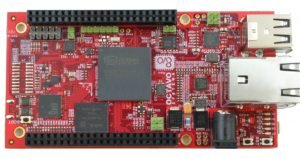 The Octavo Systems OSD3358-SM-RED platform is the official Reference, Evaluation, and Development board for the OSD335x-SM family of devices.  It was developed to allow designers to quickly evaluate the OSD335x-SM in their application.  It has many common interfaces and sensors.  It also has a pair of expansion headers that are compatible with BeagleBone® Black Capes.  This provides a platform to quickly prototype different applications.
All of the design resources and software are opensource making it an ideal known good starting point for new designs.
Other Development Boards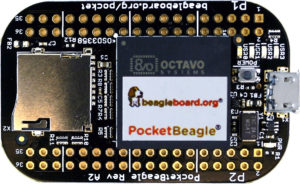 The PocketBeagle®, from BeagleBoard.org®, is a low cost, bare bones prototyping platform.  It consists of the OSD3358-512M-BSM, microSD card holder, microUSB connector, and 72 header pins.  The header pins expose many signals that can be used to construct a lager system, like GPIO, PWMs, ADC inputs, USB, and PRU I/O.  At 56mm x 35mm x 5mm, PocketBeagle® is the smallest development platform for the OSD335x-SM products.
Like all of the BeagleBoard.org products, all of the design files and software are completely opensource and available on their website.
Symbols
To make designing with Octavo Systems devices easier, a number of schematic symbol libraries have been provided below.  There are options for a variety of schematic capture and layout programs.  Please choose the one that best suits your needs.  If you would like to request a symbol for a different tool, please request it here.
Software
Provided below is a copy of the DDR3 calibration program that is provided from Texas Instruments.  It has been provided here for your convenience.