PocketBeagle® Featuring The OSD335x-SM

PocketBeagle® is here!  BeagleBoard.org® has released its newest board based on the OSD3358-512M-BSM System-In-Package (SiP).  PocketBeagle® is the smallest and lowest cost solution in the popular BeagleBoard family.  At only $25 and about 1.4in X 2.17in (35mm X 55mm), PocketBeagle® is a powerful Linux computer in a small, low cost footprint.
PocketBeagle® has the same processing power as the larger BeagleBone® Black and runs the same Debian GNU/Linux images.  It also offers a host of different I/O signals brought out to its 72-pin expansion points including:
8 analog inputs
44 digital GPIOs accessible with 18 enabled by default
3 UARTs accessible with 2 enabled by default
2 I2C busses enabled by default
2 SPI busses with single chip selects
4 PWM outputs accessible with 2 enabled by default
2 quadrature encoder inputs accessible
2 CAN bus controllers accessible
23 programmable real-time unit (PRU) I/O pins accessible with 7 I/O pins enabled by default for PRU0 and 1 enabled by default for PRU1
3 voltage inputs
2 voltage outputs
Power and reset button I/O
OSD3358-512M-BSM System-In-Package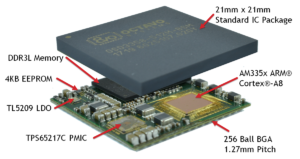 At its core PocketBeagle® features the OSD3358-512M-BSM SiP that integrates most of the key components required for an embedded Linux system into a single easy to use BGA package.  It integrates a powerful Sitara™ AM3358 ARM® Cortex®-A8 Processor from Texas Instruments running up to 1GHz, 512 MB of DDR3L Memory, 4KB of EEPROM, 2 power supplies, and passives into a single package.   The package is a standard 256 Ball BGA with a 1.27mm pitch that occupies only 0.68 square inches (441 square millimeters).  This footprint is over 60% smaller than the equivalent system built with discrete components.
The integration provided by the SiP allowed the team designing PocketBeagle® to bypass complex and costly DDR routing, and power sequencing.  They also didn't have to worry about placing and routing over 100 individual components that would have increased size, cost, and lengthened the design time.  With the OSD3358-SM the team just placed the SiP and a handful of other components and still got the same performance as the much larger BeagleBone® Black.
Wrapping up
PocketBeagle® is a great example of what can be done with System-In-Package technology.  It delivers the same performance as the BeagleBone® Black in a package that is less than half the size.  It can run the same software and has many of the same interfaces.  All of this and at a lower price as well.  These benefits highlight many of the advantages that SiPs can bring to end systems.
We are excited to see what BeagleBoard.org® does next with this powerful technology.